AUTUMN 2017
All classes led by Georgia Simms with live percussion by Adam Bowman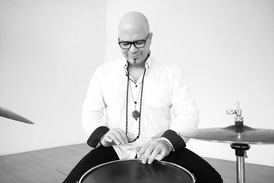 'AUTUMN 2017 SESSION'
Four classes to choose from -- all designed to support your discovery and practice of physical expression, alignment, rhythm and personal power.
Dance Technique Fundamentals
For those who have little to no experience with dance, this will be a comfortable introduction to movement based on modern dance principles. Classes will include seated and standing work to build strength, flexibility and physical awareness. Phrases of movement that progress through space will build each week, playing with rhythm, dynamic and variation. Class size is limited to ensure individual attention and time for questions and discussion. Breath, posture, unlearning, and new experiences.
Tuesdays 8:15-9:30pm, 42 Quebec Street, Studio A
September 19th to December 12th, 2017 (13 weeks)
Cost: $300
Intermediate Modern Dance Technique
For those with some dance experience, this class integrates the fundamental aspects of modern dance into longer phrases of movement with more detailed floorwork and technically challenging vocabulary. It will expand opportunities for physical expression and communication. Float, glide, drop, shift and fly!
Mondays 7:00-8:30pm, 42 Quebec Street, Studio A
September 25th to December 18th, 2017 (12 weeks) *no class on October 9th
Cost: $280
**BONUS FREE 'TUNE-UP' CLASS ON SEPTEMBER 18th**
Improvisation and Composition
Do you wonder what it is like to dance "in the moment", or what it feels like to practice listening and responsiveness, curiosity and patience? This class makes space for all this and more in an environment of collaboration, discovery and reflection. The creation of improvised live music is a key part of the experience.
Mondays 8:30-10pm, 42 Quebec Street, Studio A
September 18th to December 18th (13 weeks) *no class on October 9th
Cost: $300
Friday Night Dance Making
Every other Friday, come out to the studio and be part of a creative process! Blending dance and theatre, we will use collaborative choreographic approaches and build a small repertoire of movement using both pre-recorded music and customized scores. Everyone contributes, considers, critiques and creates! Supportive coaching and guidance joyfully provided. Post-creation social time encouraged.
Fridays (bi-weekly) 7-9:30pm, 42 Quebec Street, Studio A
September 22, October 6 & 20, November 3 &17, December 1 & 15 (7 sessions)
Cost: $300
REGISTRATION AND PAYMENT
To register or if you have questions, please contact: georgia@imageo.ca
Payment plan arrangements are available by request.
U of G students eligible for class discount of 35% (valid ID required)
E-transfer is preferred. Cash/cheque are also accepted. No credit or debit.
Drop-in students are welcome at a cost of $25 per class -- please get in touch before attending.
All classes held in beautiful Studio A @ Movement 42
42 Quebec St., Guelph ON
More about: