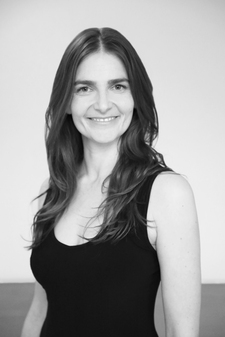 [photo: Ellen Snowball]
Georgia Simms, a U of G alumnus, is a dance artist, educator and facilitator who is passionate about communication and creativity.
She completed her academic degrees in International Development (BA) and Geography (MA) with a focus on environmental governance. She also worked as a Research Associate with the Water Policy and Governance Group at the University of Waterloo, all the while studying and performing with Dancetheatre David Earle, a professional dance company operating in downtown Guelph.
In seeking to combine her social science sensibilities with her dance practice, she decided to investigate the field of art for social change, opting to study briefly at the International Centre for Art for Social Change at Simon Fraser University as well as the Dance Exchange in Tacoma Park, MD.
Aspects of her artistic practice, including attention to body language, choreography, improvisation and composition, directly inform and influence her current activities, which include the development of creative facilitation training, dialogue design and arts-based research methods. She offers learning experiences that are physically-focused, interactive and energetic.
She is actively experimenting with civic engagement and knowledge mobilization strategies that are based in creative process and performance. Her current initiatives with the Community Engaged Scholarship Institute at the University of Guelph represent a synthesis of her experiences and her belief in the power of art to provide us with tools and skills for social innovation.