The Engaged Practitioner in Residence is a pilot project of the Community Engaged Scholarship Institute at the University of Guelph, bridging campus and community with creativity. What is possible when we combine artistic practices, research design and collaboration?
Read more in the feature article by Susan Bubak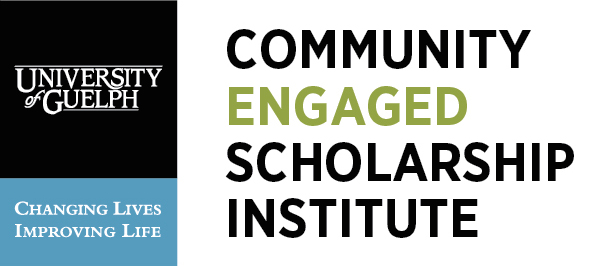 Recent Presentations and Workshops
Canadian Forum on Knowledge Mobilization (Montreal)

"Performing Knowledge Mobilization: moving our experiences"
"Community on Campus: what is an engaged practitioner in residence?"
Read workshop reflections in a blog post from fellow workshop participant and arts practitioner, Callista Haggis
Knowledge Mobilization Summer Institute (Guelph)

"Energizing our Engagement"
Graduate Student University Teaching Conference (Guelph)

"Finding the Physical in Facilitation"
Guelph Jazz Festival Colloquium

"Connecting and Communicating through Dance Improvisation"
In collaboration with Dr. Jeji Varghese for SOC*3850, The Sociology of Water

"Bodies of Water: a creative exploration of human relationships to water through stories and movement"
"Decisions and Democracy: listening, facilitating and engaging for collaborative action"
In collaboration with Dr. Carla Rice for FRAN*6200, Embodiment and Bodily Difference

"Philosophy in Motion: exploring phenomenology and post-structuralism in physical experience"
In collaboration with Wayne Caldwell for graduate students in the School of Environmental Design and Rural Development

"Bringing Performance to Planning: creating community development opportunities that are meaningful, active and interactive"
For the University of Guelph Learning Services, Presentation Boot Camp

"What you say without speaking: body language, movement and communication" 
With Project Re•Vision researchers and staff

"Delving into Dance as Tool for Storytelling"
With graduate students in the Department of Geography

"Re-imagining Research through Movement"
For the International Institute for Critical Studies in Improvisation, Thinking Spaces: Reading Group and Speaker Series

"Freeing Frameworks: A Movement Improvisation Workshop"
See workshop video created by João Franca
With the KTT-KMb Learning Circle

" Getting the A's: Moving from Anxiety to Authenticity in Research"
For the University of Guelph Learning Services, Presentation Boot Camp

"Performing your Presentation: using theatrical metaphors to engage listeners and communicate effectively"